News Cricket

BCV Bundesliga Cricket champions 2012!!!
1. August 2012

- Wasif Abbas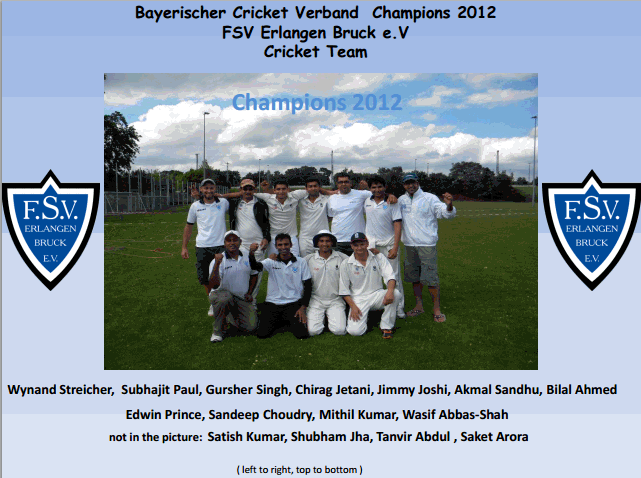 Final League Day
29. Juli 2012

- Wasif Abbas
It all came down to this final match. We could have won the championship with a loss and a good NRR but ofcourse, we wanted a win and go up to 64 points in the table.
Nürnberg won the toss and decided to bowl. Ofcourse, they had to bowl, get us out at a low total, try to score that total in as few overs as posible to bring their NRR up and have a chance to win the championship. Before this match, POCC had the best NRR and could of become champion if we lost.
Nürnberg got off to an excellent start, we were 5 for 3 after just 4 overs. But then our captain Gursher and Wynand put up a partnership and brought the score to over 100runs after Gursher was given out in a disputed LBW decision. We batted 39 overs getting a total of 159 runs. Jimmy hit some great 80metre sixes.
Nürnberg had a very hard task on their hands but were willing to fight. To have any chance of winning the championship, they needed the total in less than 23 overs.
They got off to a very good start and after 7 overs they were over 60 runs with only 1 wicket down. Gursher changed the bowling spell and brought in the spinners. This resulted in Nürnberg being all out in 17 overs for 104 runs. A big compliment to Nürnberg for their fighting spirit and fairness at the ground.
FSV wins the BCV Bundesliga Landesmeisterschafft 2012. This was the sweetest win of the season. With tears in my eyes, I was carried over the ground from my players, the celebrations were on.
Well done guys. What a season and what a great team to play with.

League day 7, 8 and 9
22. Juli 2012

- Wasif Abbas
22.07.2012
FSV vs. PCC ERL 12:30 Start 4o overs
PCC 51/all out in 12,4 overs
FSV 52/1 in 5,4 overs
FSV won by 9 wickets
-------------------------------------------------
21.07.2012
MIC vs. FSV MUC 13:00start 35 overs
MIC 154/all out in 34,3 overs
FSV 150/all out in 34,4 overs
MIC won by 4 runs
---------------------------------------------------
07.07.2012
MCC vs. FSV MUC 12:30start 40 overs
FSV 149/all out in 38 overs
MCC 153/8 in 39.4 overs
MCC won by 2 wickets

League day 6
26. Juni 2012

- Wasif Abbas
FSV vs. TCC 24.06.12 Erlangen, start 12:30
FSV lost the toss and batted first. After 37,2 overs, we were all out after scoring 194 runs. TCC bowlers were super. Saleem Khan bowled very well and Maxi as well. We were very impressed at their bowling abilities. They lived up to their good reputation.
After a short lunch break, TCC started their innings and lost 2 early wickets. Little midway partnerships helped them to get some runs on the board. FSV did a terrible job in the field dropping 6 catches. This was probably the worst fielding performance this season. Due to miss-fields and wides, we also gave 29 extras. Akmal did a good job taking 3 wickets and Subhajit bowled well given hardly any runs and bowling 2 maiden overs.
In the end, TCC were all out for 125 runs in 30,3 overs. FSV won by 61 runs.
After 6 league matches, FSV are undefeated at the top of the table with 48 points.